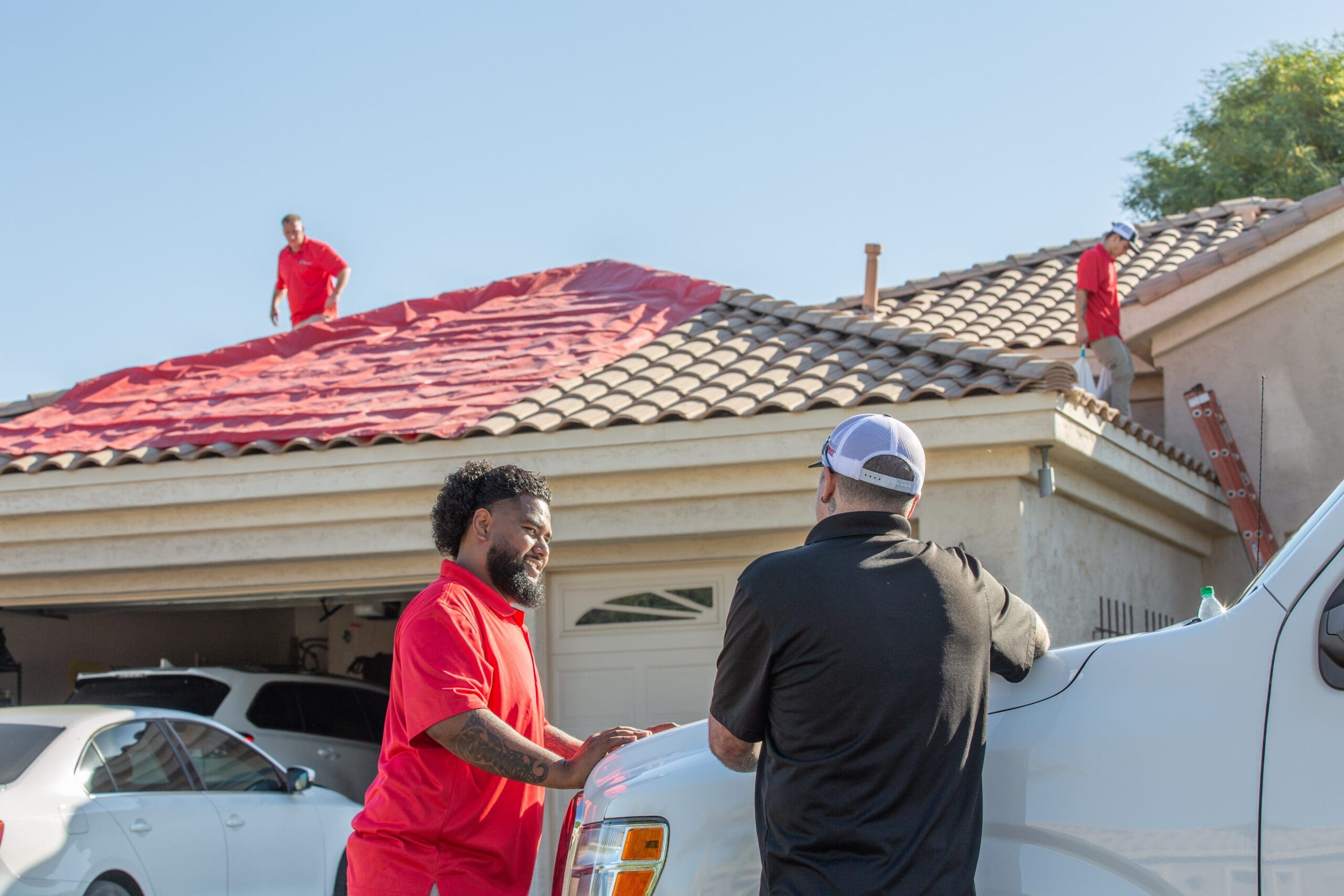 7 Essential Questions to Ask a Roofing Contractor
Picking a roofing contractor is no minor task. After all, you'll count on their workmanship to keep your home and everything in it safe and secure. Nevertheless, the range of options can make it hard to feel confident you are going with the right company. Here are our tips for choosing a roofing contractor you can feel good about!
1. Are You Licensed, Bonded, And Insured?
The first and most essential question to ask any roofing contractor is if they are licensed, bonded, and insured.
Working with a roofer who has a current roofing license and the required insurance is crucial. It's imperative they have liability insurance, as it safeguards homeowners from injuries or liabilities that may occur on the job.
Pro tip: Don't be scared to request supporting information. A reputable roofer will be able to show proof of insurance and licensure.
2. Can they provide references from homeowners?
Find out whether your potential roofer can provide references from past customers. This allows you to evaluate a contractor's work more effectively than through reviews and recommendations. Additionally, you can request a portfolio of their prior work.
To find out what other people are saying about a contractor you are thinking about, it is also a good idea to do some online research. Try searching for a company's name to see what shows up because generally, people aren't shy about leaving reviews based on their real experiences. For an extra layer of safety, you can search for the company on the Better Business Bureau's site.
3. What Roofing Materials Do You Offer?
Make sure to inquire about the roofing systems that your potential roofers offer. Asking this question is a straightforward way to learn about your options as well as ask questions about more technical issues like how the material or system in question will function (including how it holds up during weather events).
If your roofer offers a variety of asphalt shingle roofing options, you'll have more options with design. Many homeowners are shocked to learn that there are options for asphalt shingles outside what they are accustomed to seeing in their neighborhood, including the increasingly popular dimensional shingles.
Most reputable roofers typically provide at least:
Asphalt shingles. These are the most common (and the least expensive). These shingles come in a variety of colors and styles, and some cost more than others.
Metal roofing materials. Aluminum and steel roofs are very popular because they're durable and fireproof. They tend to cost more than asphalt shingles.
Natural slate is heavy and durable, and it creates a luxury aesthetic. Your contractor can explain your options when it comes to slate – and if you want the look but not the cost, you may be able to try synthetic slate instead.
Clay and ceramic tiles. Spanish-style roofing is undeniably beautiful. The tiles are fire-resistant and rugged, and they do well during inclement weather.
Manufacturers like GAF and Owens Corning® provide unique options like fish scale and slate-type shingles, which may be better suited for the design you are after.
4. What Is Your Change Process?
While the project is still in progress, certain circumstances demand adjustments. While removing an old roof, roofers may come across hidden roofing problems, such as wood rot. Other times, the homeowner changes their mind after seeing the materials. Homeowners need to sign off on changes that will push back the project's completion date and can change final costs – that's standard across the industry.
To be safe, ask upfront about the change process – inquire what will happen if the roofers discover damage, if the materials differ from what you anticipated, or if you simply change your mind. By doing this, you'll be ready for anything.
Do You Provide Storm Damage Repair?
Be sure to find out if the potential roofer offers storm damage restoration. It's important to know whether the potential roofer can provide emergency services because bad weather will inevitably occur at the worst possible times.
Storms can harm your roof in several ways, but the following are the most typical:
Wind damage. Powerful winds can lift shingles – even when they're nailed down perfectly. In a bad storm, tiles and shingles can actually fly off your roof. Not only is this potentially hazardous, but rain and debris can also make their way into the underlayment and other materials beneath the parts of your roof you can normally see from the street. That puts your home at risk for further damage, so you'll need to have these issues checked and repaired by professionals immediately.
Debris damage. Flying debris can damage your roof significantly during a storm. Although asphalt shingles can typically withstand minor impacts, other types of materials can dent or crack, and you'll need a pro to repair them as soon as possible.
Water damage. Water damage from a storm can be catastrophic – and the sooner you address a leak, the better. In many cases, an experienced roofing contractor can quickly make repairs that prevent post-leak damage, so you'll need to ensure the contractor you work with can respond promptly.
In addition to our roofing services, we are also Arizona's most trusted emergency restoration specialists and the pros you need in a crisis. Our team has seen it all – we understand what it's like to have your home or business threatened by a disaster, and know the value of getting things back on track, as soon as possible. Our expert team has decades of experience and a track record of helping people through disasters with ease, efficiency, and quality workmanship. We will be on the scene in minutes, and with you until your home or business is good as new—or better!
Will you remove the old roof or leave it in place?
To avoid paying for the old roof to be torn off and disposed of, some homeowners elect to have their new roofs installed on top of the old one. However, the drawback of this installation technique is that any concealed problems with the roof structure won't be addressed and can lead to an early failure. Any money you save by using this method could be used for repairs. We usually advise a thorough roof removal to get the most out of a new roof.
What Other Roofing Services Do You Offer?
If your property suffers damage from a passing storm, it can be quite helpful to hire a roofer who provides emergency roof repairs in addition to other services. Insurance restoration roofers like National First Roofing can work with your insurance company to make sure all the claim criteria are satisfied if you don't have experience processing insurance claims.