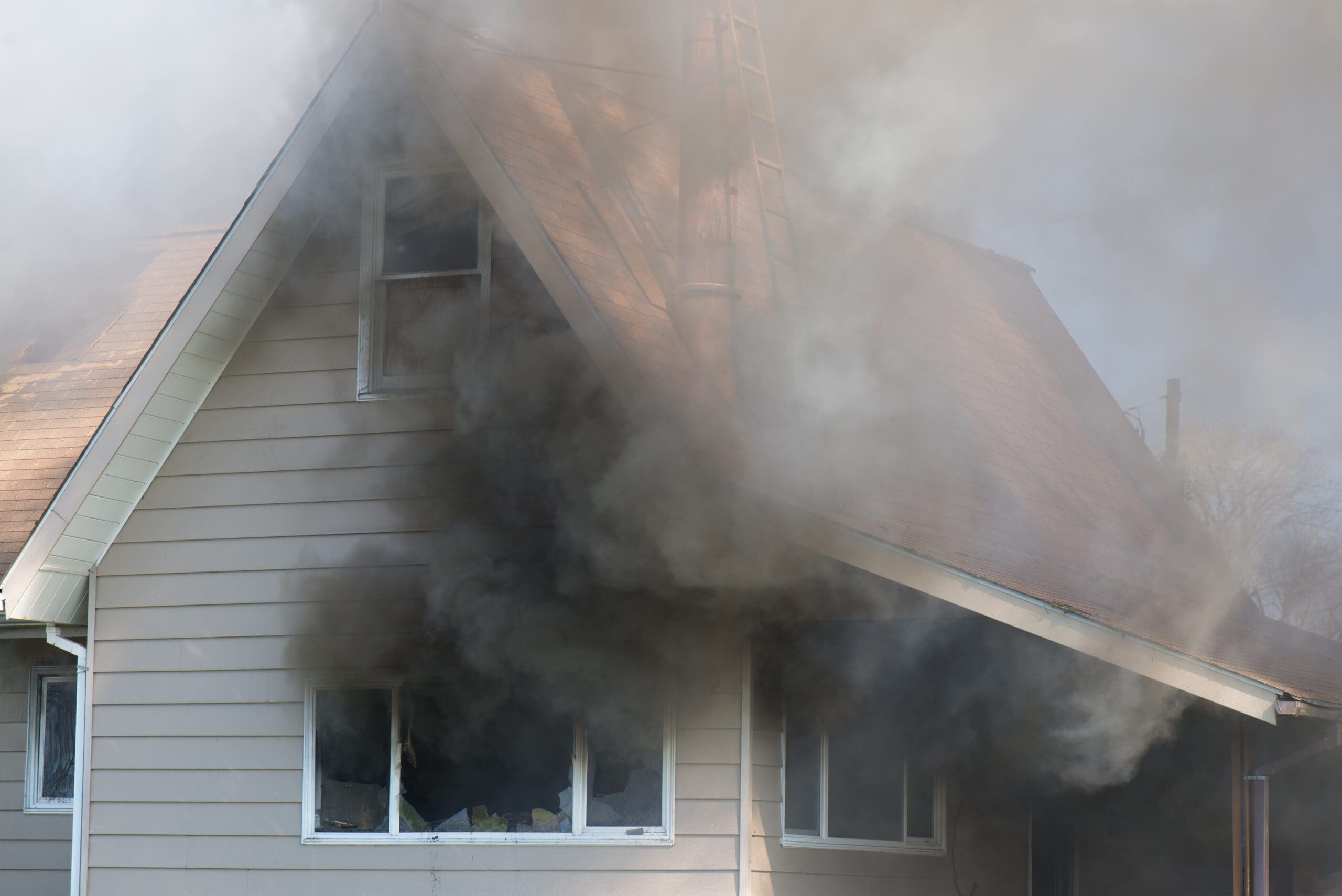 Smoke Damage What You Need to Know
Property fires are no joke. Even if you are fortunate enough to quickly contain a fire in your home, the damage from smoke can be long-lasting and harmful.
Smoke residue can negatively impact your house or place of business, and soot and smoke damage can linger long after the fire has been extinguished.
What's worse – smoke damage doesn't stay contained to the area the fire occurred in. For instance, damage to walls may occur in nearby rooms, and smoke can have a considerable impact on nearby structures following a wildfire.
To help you safeguard your property and peace of mind, here's a quick primer on the essential things to know about smoke and soot.
The Basics of Smoke and Soot Damage
Smoke is a fire byproduct that sneaks into any number of places, causing potential harm. Here are some unexpected areas that can be impacted following a fire:
Between electrical outlets and walls
Into porous surfaces and materials
HVAC systems and refrigerators
Unfortunately, smoke can also contain carcinogens from burnt wood, melted plastics, upholstery, and other sources.
The majority of homes' wooden structures frequently trap these poisons and require the assistance of experts to remediate smoke damage. Breathing in the remaining toxins from the embedded smoke puts homeowners at risk of developing respiratory problems and other symptoms.
Another issue: anywhere there is smoke is soot. When combustible substances like wood and plastic are burned, it is emitted as a greasy or powdery substance.
Like smoke, soot can leave anything damaged by a fire a frustrating mess. Your furniture, appliances, countertops, and upholstery are all susceptible to it as well. A few days without treatment can cause irreparable damage to walls, flooring, and metals.
Although in a different way than the fire itself, smoke and soot can have an impact on the structure and contents of your home. Unfortunately, this complicates clean-up efforts.
The Effects of Smoke on Your Property
Smoke can quickly enter even the smallest gaps and crevices in your house or place of business. As a result, it can persist long-term without being noticed.
Smoke can also leave difficult-to-remove stains on your painted walls and wood furniture if the right cleaning products aren't used. Meanwhile, metallic surfaces can easily rust and corrode when acidic soot particles are allowed to accumulate there for an extended period.
Following a fire, calling a trusted emergency restoration company as soon as possible is the best approach to remediating smoke damage and getting rid of the unpleasant smell.
How to Clean Commonly Damaged Items
Carpets
The majority of carpets are constructed of synthetic materials, which can quickly become permanently stained. But if they haven't been irreparably damaged by the heat, water, or any chemical used to put out the fire, they can usually be salvaged by cleaning.
Upholstery and drapes
Upholstery and curtains can also be stained by smoke damage, similar to carpets. However, using a standard vacuum can merely drive the smoke and soot residue farther into the material, making it more difficult to remove.
For these materials to be cleaned effectively, selecting the appropriate filter, hose attachment, and alkaline cleanser is essential. Alternatively, many choose to rely on experts with professional-grade cleaning equipment.
Clothing and Bedding
Although it might seem unlikely, clothing and bedding stashed away in a closed drawer or closet can still be impacted by smoke. Before washing them, take them outside to shake off any soot. If the smell persists, you might need to use a powerful laundry detergent or take them to a professional cleaner.
Wood Furnishings
Smoke damage makes cleaning furniture challenging because the wrong cleaning agent might remove the varnish and stain from the wood. Due to the potential for rusting, furniture with metal frames is also susceptible to damage.
In this case, using a dry cleaning chemical sponge can be useful. Again, if you're unsure of how to proceed, contact a professional.
Hard, Porous Surfaces
Exposed wood, wallpaper, and drywall are porous surfaces that can easily take on permanent discoloration.
Cleaning them immediately is essential to avoid lasting damage. Try a dry cleaning sponge to remove soot from walls that have been damaged by smoke and to clear up smoke stains.
Hardwood surfaces
Additionally, porous, hardwood floors are vulnerable to tiny smoke particles.
Mopping and deodorizing are sufficient to clean surfaces in minor situations. However, it can be necessary to restore or replace hardwood floors that were badly damaged by the smoke and water from the firefighting efforts.
Metallic surfaces
Large appliances and other metallic surfaces are susceptible to corrosion by soot. Wiping them with cooking oil will buy you time and help prevent corrosion and stains. Delaying cleaning, however, can cause the metallic surfaces to corrode and pit, ultimately requiring refinishing or replacement.
Phoenix Smoke Damage Restoration
Put simply, the tiny particles that seep into furnishings, building materials, and other goods makes smoke damage difficult to repair and frequently results in permanent stains and damage to your possessions.
If a fire has affected your property, why not leave it to the professionals?
Arizona's Restoration Experts
National First Response is at the ready 24 hours a day, 7 days a week. Within 60 minutes of your call, one of our experienced, Clean Trust-certified technicians will be at your door, ready to assist you. We will work to restore your home to its full potential, prevent any further loss, and help you mitigate safety concerns. We are committed to giving you peace of mind and helping you return to normal as quickly as possible.
Fire and Smoke Restoration Services:
Board up services
Rapid response mobilization
Structure cleaning
Smoke odor deodorization
HVAC duct cleaning
Demolition & debris removal
National First Response can also assist with insurance claims and offers affordable rates and payment plans for those without fire insurance, so you can get back to your life, worry-free.