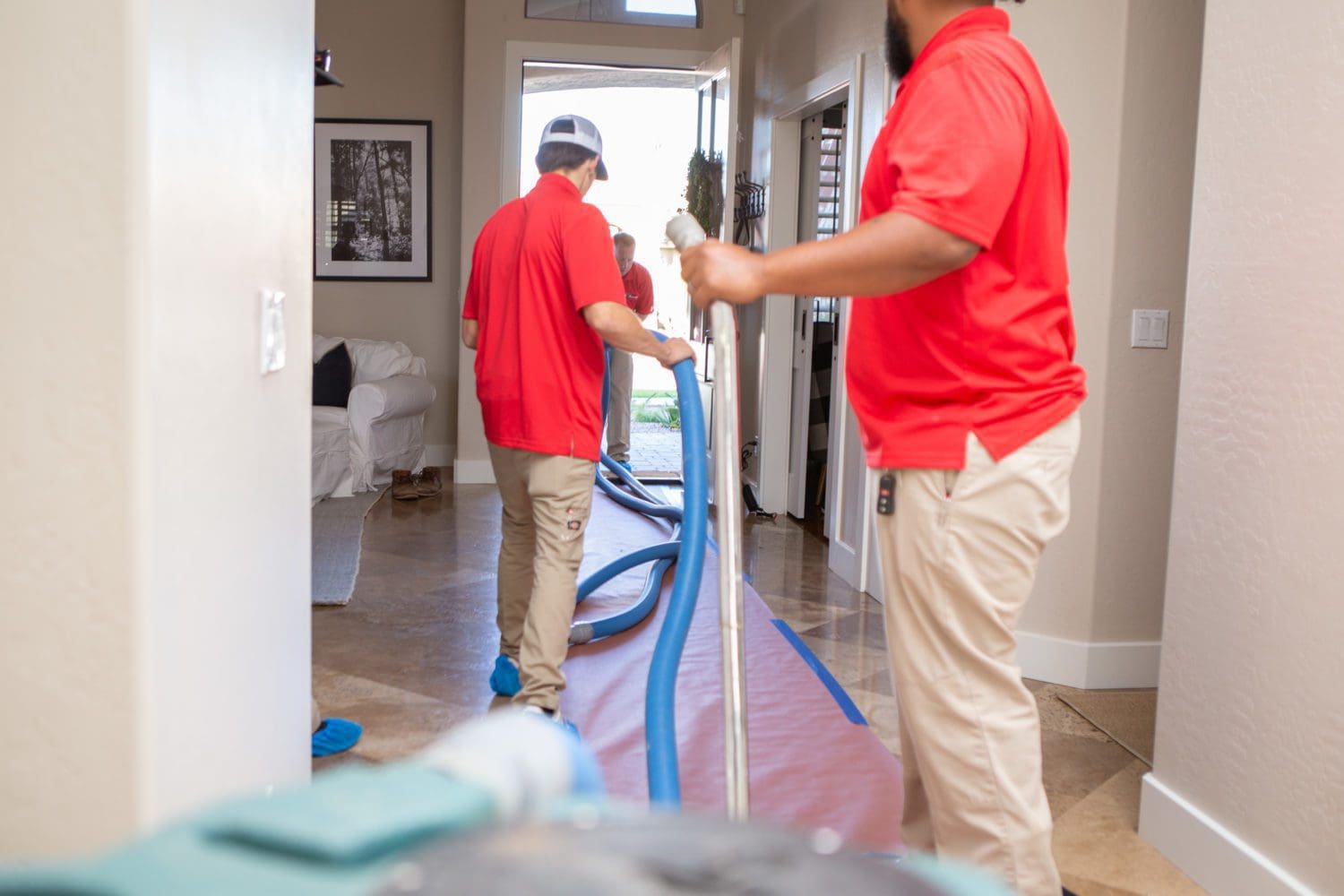 Water Damage Cleanup Timeline
When your home sustains water damage, be it from a storm, burst pipe, or leaking appliance, a quick and effective clean-up is critical to prevent serious damage. Every incidence of water damage should be taken seriously, as the longer water sits, the more damage it can cause. Our timeline demonstrates how important prompt water damage cleanup really is.
Phoenix Area Water Damage Cleanup 
Immediately after water leaks—Water will spread quickly, saturating materials it comes into contact with, including drywall, insulation, wood, and flooring.
24 hours after water damage—Materials like upholstery and carpet that have absorbed water become saturated and heavy. Materials like drywall, wood, and insulation begin to break down due to moisture-related swelling. Metal objects exposed to water will begin to tarnish, and colors and dyes from fabrics will begin to bleed. Paper goods will be unsalvageable. Most critically, mold growth can begin within 24-48 hours after exposure to moisture.
48 hours after water damage—Mold growth has begun and most likely started to spread, and may even begin to be visible on surfaces. Wood will continue to warp and bend, while metal objects can begin to corrode. Other household materials such as drywall, insulation, carpet, padding, furniture, and other textiles will continue to deteriorate. Microorganisms and harmful bacteria can begin to grow in residual moisture, creating a contamination threat.
One week after water damage—If water damage has been present for around a week, restoration costs and associated processes will significantly increase. Contamination is a major concern and should be treated accordingly. Few items or materials are fully salvageable after such lengthy water exposure, and structural damage is likely to occur. Mold growth and other harmful bacteria now pose major health risks and have likely spread via airborne spores to other areas of the home. Structural integrity is compromised, posing a serious threat to those living on the property. Cracks in walls and ceilings plus floor buckling will be apparent by this time and will require reconstruction to correct.
No matter how long your water damage has been present, National First Response can help. We offer water removal, water damage cleanup and restoration services in the Greater Phoenix, Scottsdale, Chandler, Mesa, Gilbert, Queen Creek, Ahwatukee, and surrounding areas 24 hours a day, 7 days a week—because we know that every minute counts. We begin by removing any standing water and work quickly to begin the drying process. We use the highest caliber of professional cleaning and drying equipment, strategically placed around the affected areas to maximize airflow. Our technicians have extensive training and certifications in water removal and water damage cleanup to deliver the best results possible. We understand how stressful water damage can be and are standing by to return your home or business to its best as soon as possible.
Why National First Response
National First Response is a residential and commercial emergency provider offering a broad range of emergency and non-emergency services. Whether it's water or mold removal or repairing floodwater damage to property, we fully guarantee every remediation and restoration job we do.
National First Response provides an array of emergency restoration and remediation services—available 24 hours a day, 7 days a week. Within 60 minutes of your call to National First Response, one of our experienced and certified technicians will be at your door, ready to assist you to make things right and prevent further loss. We are committed to returning your property to its original condition and getting you back to your normal life as quickly as possible.
Our emergency services address every issue that can arise from water damage, from what's needed in the moments right after an event occurs—like boarding up a home to protect the contents or getting the main power or water lines shut off—all the way through to the last reconstruction task.
Get in touch to see how we can help you!