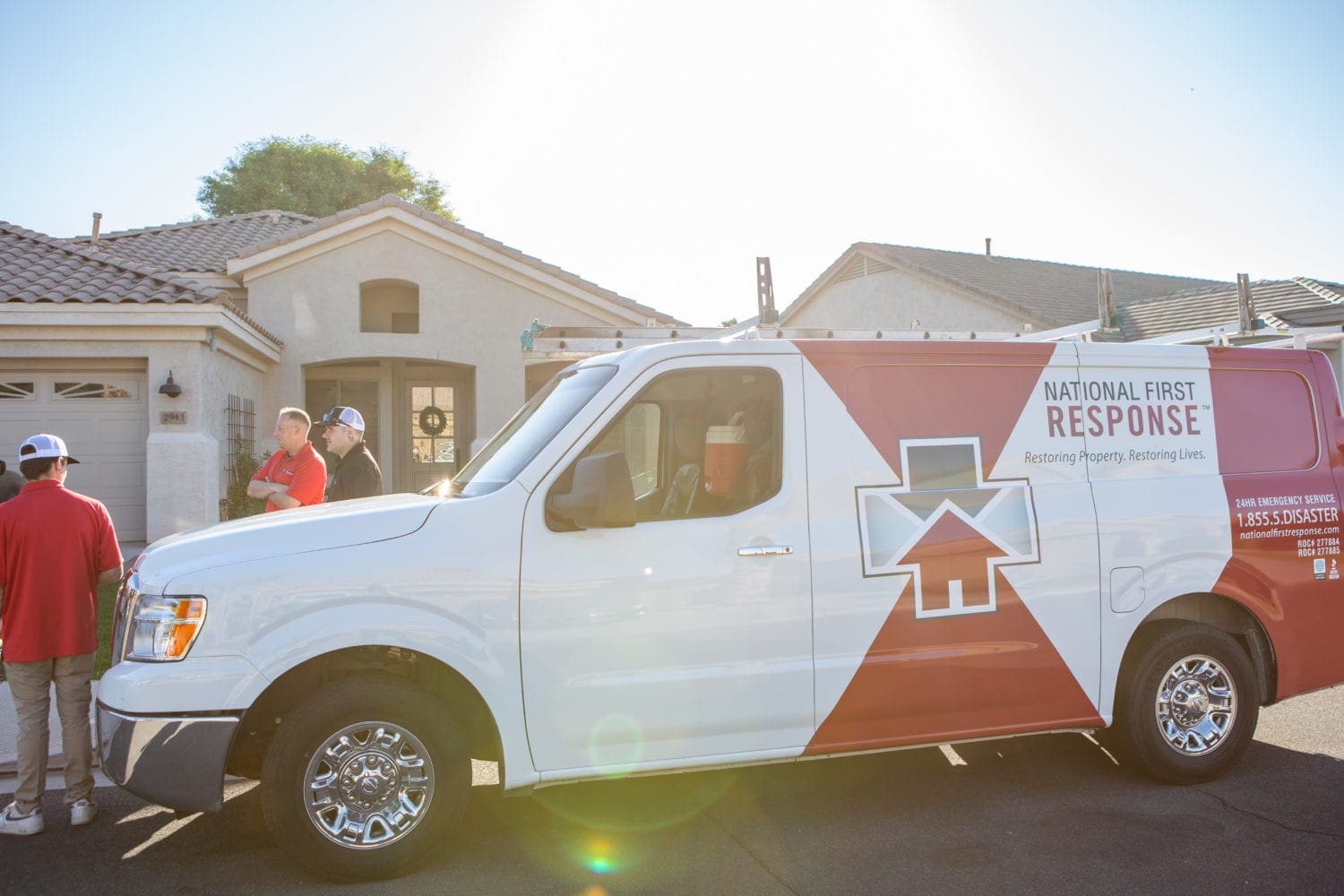 What happens when my home is damaged? Understanding the restoration and claims process.
Dealing with a disaster that affects your home or business can be overwhelming. Not only do they lead to disruptions and expense, but a crisis can affect your security and peace of mind. When your home is damaged by water, fire, or a storm, knowing what to expect during the insurance claim and rebuilding process can help restore some peace of mind!
Don't let a disaster strike twice – having a trusted ally following water, storm, or fire damage can help you through the restoration and claims process without any additional headaches!
Step 1: Report the Loss
No matter how large or small the disaster, dealing with insurance companies can be daunting. An experienced emergency restoration company will be able to guide you through this process and help you know what to expect. Generally, the first step will be to notify the insurance company and ensure that your insurance policy does cover the damages your home or business has sustained. When an insurance claim is filed, a claim number is assigned by the insurance carrier to the policyholder.
A good emergency restoration company will dispatch a qualified technician to help you assess the situation and work with the insurance representative to determining the extent of damages, coverage, and necessary mitigation steps.
In the event you require emergency services such as removing water from your home, covering your roof, or boarding up windows or doors, your arrival technician will be onsite to protect your property from further damage.
If your property has sustained severe damage, making it unlivable, your insurance representative will authorize temporary living or working arrangements for you and your family or employees until your property is restored.
Your insurance representative will also work with you directly to review covered living or income loss expenses. For other daily expenses, it's wise to keep receipts for review with your insurance representative for potential coverage. It is recommended that you use one credit card for all related expenses to your damage.
Step 2: Scope of Damages
A qualified insurance restoration company representative, typically a project manager, will collaborate with your insurance adjuster to professionally assess the damage. Together they will provide a scope of work that is clear and concise and designed to return your property to a pre-loss condition. At National First Response, we coordinate with both you and the insurance representative to establishing a remediation and restoration plan that is mutually agreeable for all involved – but most importantly, for you the customer.
Step 3: Insurer Approval
Once your insurance company has all the necessary information, they will work closely with you and your contractor to resolve your claim as quickly as possible. The insurance representative, contractor and you will establish a comprehensive and realistic scope of work estimate, expediting the approval process. This estimate is critical to bringing your claim to an efficient conclusion.
Generally, emergency services are covered under most insurance policies. In the event services are not covered, the project manager will work directly with you on a fixed cost for services using industry standards and approved guidelines. Pricing is not arbitrary – experts work diligently to provide the insurance industry with fair and acceptable pricing guidelines.
Step 4: Demolition 
Depending upon the degree of damage, demolition of the affected areas is often the first step in the remediation process. In most cases, property owners remain in their property or place of business while this process takes place. Some types of damage require extensive demolition that will comprise the structural integrity of a property. A certified professional structural engineer will determine the extent of the repairs. All repairs are completed under the jurisdiction of local building codes when applicable.
A good emergency restoration company will work to limit the disruption of your day-to-day life. In the event your kitchen is extremely damaged, the contractor will do their best to accommodate comfortable living – such as providing you with a temporary sink and the ability to utilize key appliances. If the bathroom is affected, your contractor will aim to reset your commode each day and provide access to your shower and bathtub, all while maintaining a clean and safe work environment.
Step 5: Order Replacement Materials
Items such as flooring, cabinetry, appliances, plumbing, and light fixtures, just to name a few, may need to be restored or replaced. Skilled restoration contractors will work to replace these damaged materials in kind and quality. Often, the exact items may no longer be manufactured and replacement colors, styles, and selections do not match the existing, non-damaged fixtures. In this case, restoration techniques are preferred when color, styles, and selections aren't ideal. The insurance representative and contractor will work diligently to resolve these concerns on a case by case basis.
Step 6: Restore Your Property
Restoring property is the opposite of renovation. Instead of updating, contractors aim to return the property to its original condition. Qualified home restoration experts will serve you and your needs efficiently and be available to actively listen to your concerns and take appropriate action. Reputable businesses will demonstrate knowledge of the insurance industry, policies, claim handling, and construction practices and meet your delivery expectations. Full-service contractors can also support you through additional renovations or remodeling – further improvements on your property are possible but not associated with your insurance claim.
Step 7: Quality Inspection of Property
The separation between good and great companies is fundamental. At National First Response, we conduct various quality inspections during each job—our real benefit is in knowing that "quality comes not from just inspection but from continuous improvement of processes".
When conducting a Quality Inspection of Property, a trusted contractor will follow International Standards for quality management and social responsibility. At National First Response, we adhere to these protocols to ensure that our work adheres to industry best practices and meets the highest standards of excellence.
Step 8: Complete Your Claim
At this point, we will be delighted to welcome you back to a home or business that has been lovingly restored to its original condition. Your project manager will spend the time necessary to review your restoration project in detail with you onsite. Any discrepancies you might find in products or quality will be documented and corrected within three business days.
National First Response takes immense pride in our outstanding customer service during trying times. When you need it most, a team that you can count on makes a world of difference.
Still have questions about how to handle water, fire, or storm damage? Get in touch today! We are here to help you through
your emergency, 24/7.