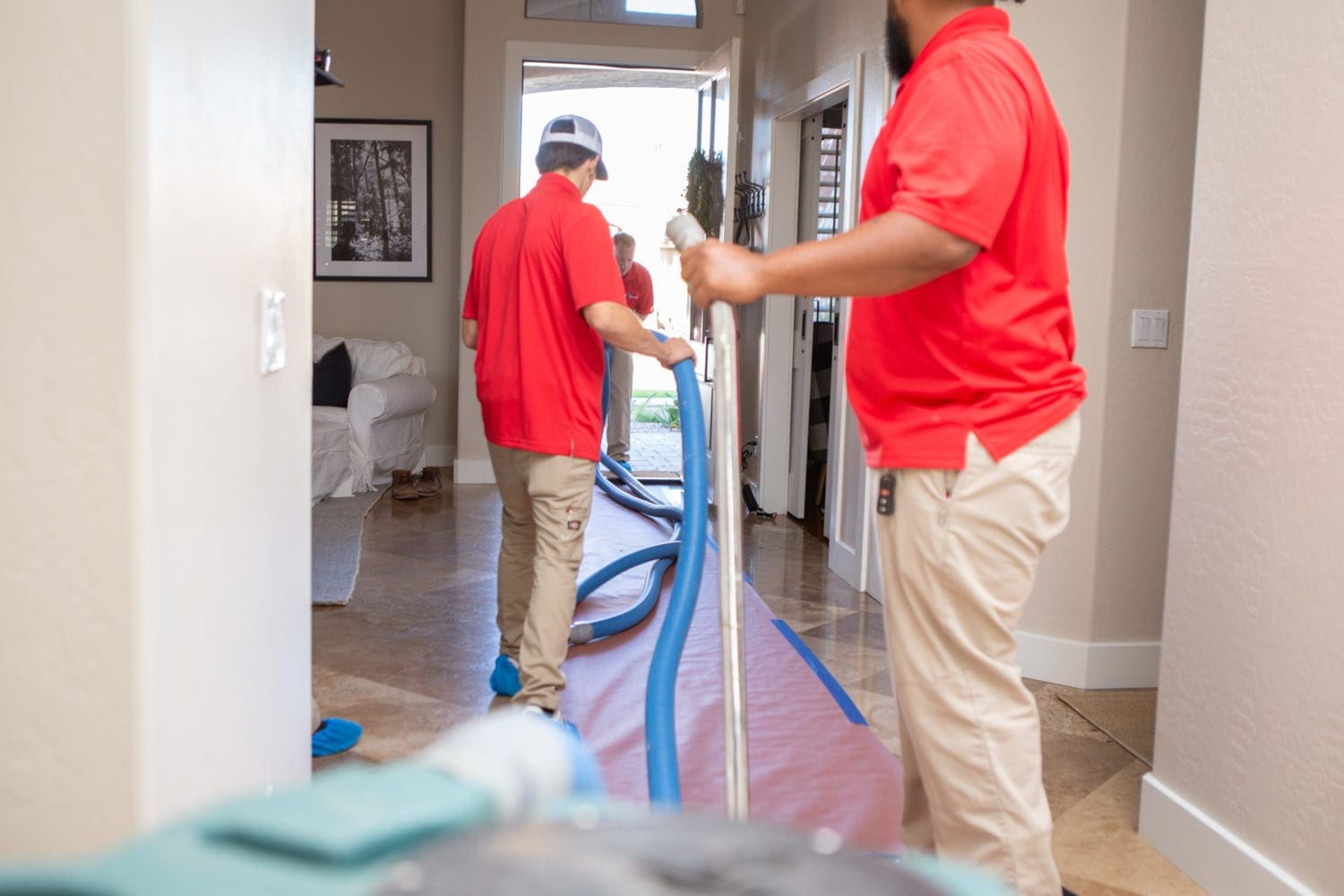 How to avoid home water damage
Although most people think of Arizona as a dry, arid climate, water damage is more common than you think. Aside from the notorious monsoon season, water damage from common home issues such as leaky pipes, burst water heaters, and excessive A/C condensation can lead to serious damage.
Aside from being costly, water damage can also create countless health and safety issues. While it might not look like much, after just 48 hours, residual water and humidity can cause real problems, like dangerous mold and bacteria growth. In addition, an improper cleanup and restoration can create even more headaches going forward.
Thankfully, there is much that can be done to prevent home water damage.
Protect Yourself and Home First
A little planning can go a long way to prevent thousands of dollars worth of damage and loss. For many, a flood insurance policy is a logical first step. Having financial support to cover remediation and cleanup cost can give you peace of mind and help get things back to normal as soon as possible.
When choosing a policy, make sure that it covers the damages you are most likely to encounter. For example, a general homeowners insurance policy often doesn't specifically cover flooding. Although it may cover water damage from burst pipes, for instance, there may be caveats related to water that has entered the house from outside, due to issues such as poor drainage.
Fix and Prevent Plumbing Leaks 
For homes with older plumbing, it's a good idea to make a point of regularly checking lines. This will stop small leaks from becoming major problems and prevent skyrocketing repair costs. Keep an eye out for loss of water pressure, sudden spikes in water bills, or a water pump that keeps running. 
Know Your Water Main
The water main shutoff is probably your home's most important plumbing feature. Your water main supplies water to the entire house—knowing where it is and how to turn it off can prevent a much larger disaster.
If you experience a sudden leak, plumbing emergency, or burst water heater, head straight to the water main and turn it off, hopefully minimizing any damage.
Also, if you leave home for extended periods (like many Arizonians!) we recommend shutting the main. This will reduce the chance of an unexpected issue wreaking havoc on your home while you are away.
Maintain appliances 
Appliances are the number one offender for in-home water damage. Keeping a close eye on your appliances and regularly checking for leaks can be a smart move to prevent water damage.
Pay special attention to the washing machine and refrigerator hoses. These often become brittle after just a few years (a hose typically has a life span of about five years), leading to leaks, and are among the most frequent causes of water damage for homeowners. Although it may seem like a hassle, replacing yours regularly can help avoid a huge mess and costly damage.
Another common culprit in the Arizona heat comes from issues related to air conditioners running 24/7. Air conditioners work much like giant dehumidifiers and when condensate lines that collect excess moisture clog up, water can leak out. Often this can go unnoticed for an extended period and eventually lead to huge amounts of water damage—even occasionally requiring entire floors to be replaced.
Monitor your water bill
Water bills can offer great insight into undetected water leaks. If your usage jumps significantly from one month to the next without explanation, we recommend investigating possible sources and calling the water department or another professional to assess the situation.
Find and fix leaks promptly
If leaks and moisture damage are ignored, they will likely lead to mold, mildew, dry rot, or even structural damage to your home. That's why beginning the restoration process as quickly as possible is essential for mitigating health risks and your home's integrity.
Although most homeowner's insurance will provide coverage for sudden and accidental damage, damage due to negligence or lack of maintenance will usually not be covered by a standard homeowners insurance policy.
Hire a Trusted Remediation Company
If water damage has affected your Arizona home, it's time to call our experts. National First Response is at the ready 24 hours a day, 7 days a week. Within 60 minutes of your call, one of our experienced, Clean Trust-certified technicians will be at your door, ready to assist you. Our response teams have the expertise and experience to quickly size up a loss, address the situation on-site, and restore your world to normalcy as soon as possible.
We are a full-scale restoration company with the training and credentials to properly remediate water damage and restore homes to pristine condition. From mold detection to drywall, flooring, cabinets, paint, and trim, we are Arizona's first choice in water damage restoration services.
National First Response has a team of dedicated technicians with decades of experience to serve the Greater Phoenix, Scottsdale, Chandler, Mesa, Gilbert, Queen Creek, Ahwatukee, and surrounding areas. It is with many years of experience under our belts, that we understand the commitment, skill, and customer service necessary to restore your family's property and sense of security.
Get in touch today to see how we can help!