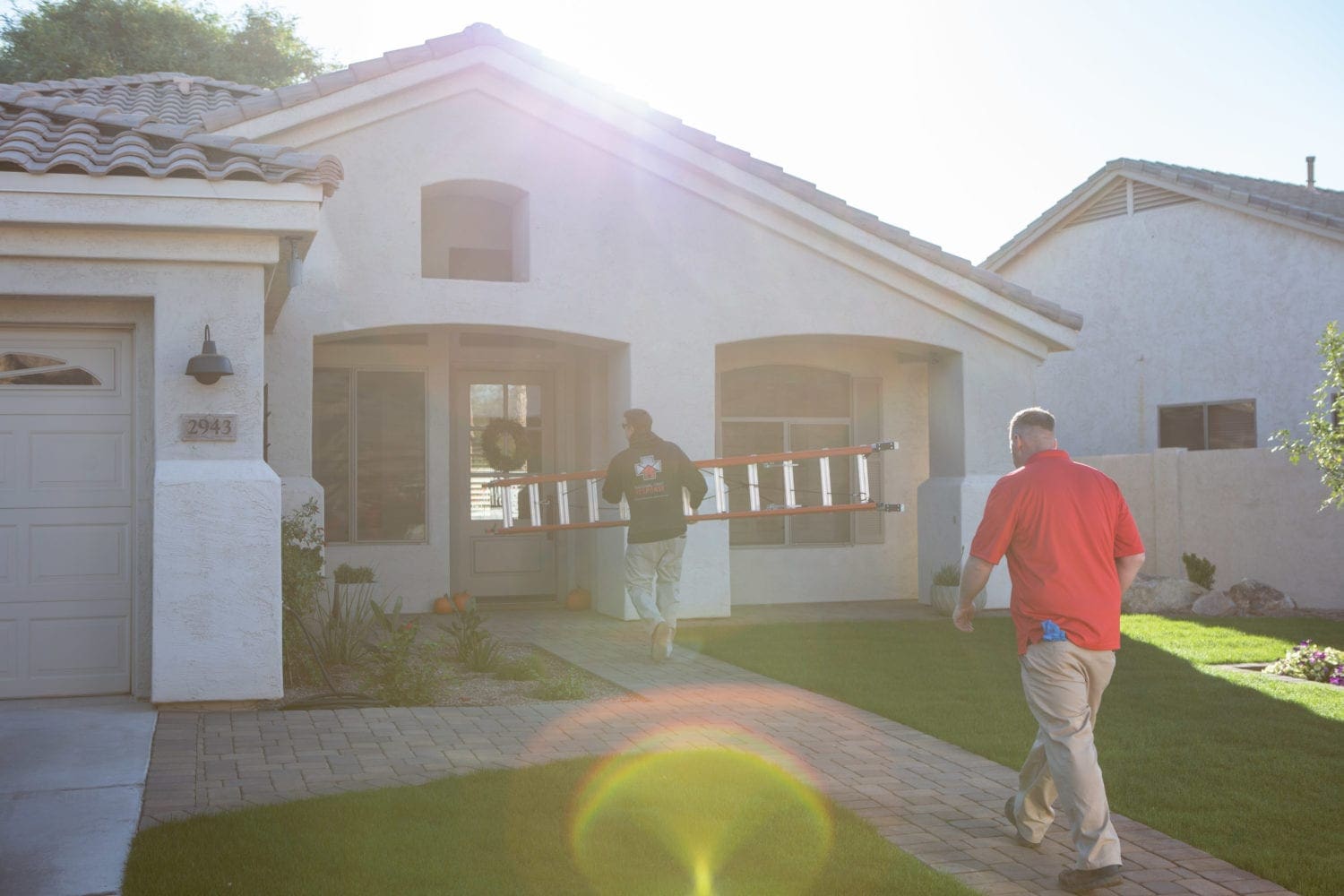 How to Prepare for Monsoon Season in Arizona 
Although Arizona is legendary for its hot, dry weather, the Arizona monsoon season brings with it an increase in moisture and the likelihood of severe storms. The monsoon season officially begins on June 15 and ends on September 30, and although the rain can provide welcome relief from soaring summer temps, the storms can lead to significant damage for the unprepared. Getting ahead of potential problem areas can avert disaster and save money on costly repairs later.
Monsoon storms can create several hazards, including dust, wind damage, and flooding. Because Arizona is dry for most of the year, the ground in the valley is slow to absorb intense monsoon rains—washes fill rapidly, sometimes causing entire streets and highways to flood.
Often, the biggest storms begin with huge walls of dust that can be hundreds of feet high, known as "haboobs," which is derived from an Arabic term for the similar walls of dust that strike the Middle East. These sand and dust storms can last hours and are usually accompanied by heavy rains.
Monsoon thunderstorms can lead to what's known as "microbursts," which occur when cold, dense air from a storm hits the warm ground, creating intense winds that can cause serious damage.
Here are our tips on getting your home monsoon ready to avoid any potential problems:
Heavy rain or flash floods
Flash flooding is no joke and can create real dangers at home or while outdoors. To prepare your home, consider having sandbags at the ready to block any water from entering your home.
In addition, a professional can provide drainage solutions to keep your yard and home protected against possible flooding. Ensuring your landscaping has been designed with proper runoff in mind can minimize water flowing towards the house and prevent structural damage. Adding pavers or solid surfaces over the dirt in your yard can also help prevent flooding.
If your home has gutters or downspouts, it is smart to clean them to ensure they effectively run water away from your roof, as well as check that downspouts properly reach the ground.
Having your roof inspected by a licensed roofing contractor is also not a bad idea. Any vulnerabilities can make the roof susceptible to damage or leaks from strong rains and winds. Although tiles are some of the most durable and water-resistant roof coverings, they are not watertight, and sealing or replacing a few cracked tiles can avoid far costlier repairs down the road.
Another smart idea is to seal openings around the house and on the roof. Caulk cracks and gaps and consider weather stripping for windows and doors. Gap filler near the foundation and on stucco can help to prevent water seepage and later issues with mold and mildew.
Heavy Winds
Heavy winds can be one of the biggest causes of damage during monsoon season in Arizona. Monsoon winds can knock over trees, destroy roofs, windows, and garage doors as well as send heavy items flying.
Prepare the outside of your home by securing outdoor furniture, cushions, trampolines, umbrellas, gazebos, and anything else that could be swept up by monsoon woods and turned into a flying projectile.
Homeowners should also consider trimming unwieldy branches that could snap off and strike homes or cars. Cutting back foliage will limit wind resistance, allowing strong winds to pass through and potentially save trees from becoming uprooted. Trimming brown sections on palm trees can prevent them from becoming kindling if lightning strikes.
Lastly, clearing out your garage to make room for cars can prevent them from being damaged by flying tree branches or runaway lawn furniture as well as rain and hail.
Prepare Your Family
The Arizona Emergency Information Network suggests that families create emergency plans, especially in the event of communications outages. Pre-arranged meeting places and emergency kits with non-perishables food and water supplies can also help avert disaster. Including prescription medicines and other essentials will at a minimum give your family peace of mind during bad weather.
 Know Who to Call if Disaster Strikes
Following damage caused by severe weather, we understand that your top priority will be restoring your home to its beautiful best, as quickly and efficiently as possible. National First Response is your trusted advocate for emergency restoration and general contracting. We are here 24/7 to make things right and make it easy, so you can resume your life and get back to the things you love to do best. We are here for you— and you're just a phone call away from peace of mind.
National First Response is BBB-accredited with a team of dedicated technicians to serve the Greater Phoenix, Scottsdale, Chandler, Mesa, Gilbert, Queen Creek, Ahwatukee, and surrounding areas. With decades of experience, we understand the commitment, skill, and customer service necessary to restore your family's property and sense of security. We can also help you understand what your insurance will cover and how to file a claim.
Look no further for Arizona's most trusted restoration specialists:
Affordable Rates
24/7 Emergency Response
Free Damage Assessment
Deductible Financing Available
Bonded, Licensed & Insured
Locally Owned & Operated