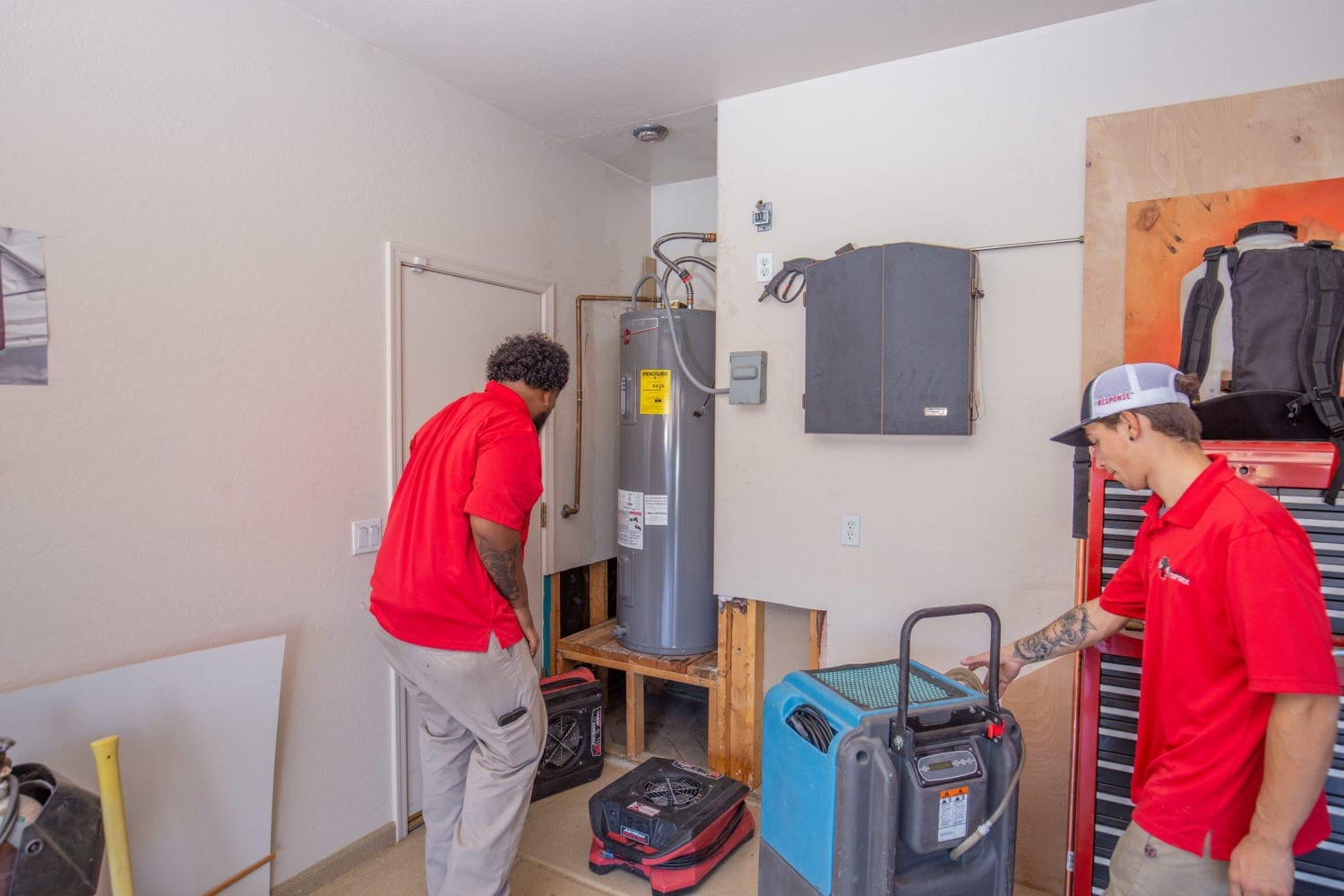 How to Repair Home Water Damage in Arizona: Choosing the Right Restoration Company
Home water damage is a serious issue. While it might not look like much, after just 48 hours, residual water and humidity can cause real problems, like dangerous mold and bacteria growth. Following water damage from a natural disaster, leak, or burst pipe, an improper cleanup and restoration can create untold health issues and headaches going forward.
That's why beginning the restoration process as quickly as possible is essential for mitigating health risks and your home's integrity. National First Response is at the ready 24 hours a day, 7 days a week. Within 60 minutes of your call, one of our experienced, Clean Trust-certified technicians will be at your door, ready to assist you. Our response teams have the expertise and experience to quickly size up a loss, address the situation on-site, and restore your world to normalcy as soon as possible.
Here are some tips on what to do if your Arizona home has experienced water damage:
Steer Clear of Appliances!
Safety First. If there are electronics near water damaged areas, be sure to steer clear of them to avoid being electrocuted – and keep kids and pets out of harm's way as well.
Minimize Water Damage
If at all possible, it will be helpful to stop the flow of water. If a burst water pipe is the culprit, turning off the water main can mitigate some damage. Alternatively, using a bucket or a kiddie pool to collect water from a leaky roof can slow the amount flowing into your home.
Bring Valuables to Safety
Consider rescuing valuables like photo albums, phones, and laptops, if you can do so safely. If water is continuing to flow, taking rugs or light furniture to safety can also help reduce the costs of restoring your home after water damage. Extra care should be taken with electronics that are plugged in, as mentioned above.
Contact Water Damage Restoration Experts
Of course, for most situations, homeowners choose to rely on experts who can be sure that the clean-up is comprehensive and will prevent serious damage or future health risks.
A good emergency restoration company can do it all – from stopping the source of the damage to clean up and quality restoration of your property.
Stopping Water Flow
In many cases, the source of water damage will be easily identifiable, like during a natural disaster or when a pipe or water heater has burst. However, there are some cases where experts are needed to determine the location of the leak – especially if it is coming from behind a wall or ceiling. Emergency restoration experts can fix pluming, alter problematic landscape features, and seal leaks as appropriate.
Remove Standing Water
In most cases, standing water collects in pools and low-lying areas of your home. Professional home restoration experts will use industrial equipment like wet/dry vacs and water extractors to remove water, mud, and debris, especially in cases of serious flooding when the volume of polluted water is an issue.
Dehumidify
After getting the standing water under control, dehumidifying is essential. This crucial step removes residual moisture that can lead to warping and other physical damage. Moreover, remaining moisture can lead to dangerous molds and bacteria that can cause long-term health issues. Dehumidification is vital to ensuring that your disaster doesn't cause problems long into the future!
Sanitize
If your home or business has experienced water damage it will also be necessary to sanitize the affected areas. Often, water damage brings with it contaminants and pollutants that must be addressed to keep your home and family happy and healthy. Commercial cleaning equipment and products like industrial sanitizers ensure your home is thoroughly clean and ready for repairs and restorations!
Repairs and Restoration
Finally, remediation and restoration can begin! Relying on an experienced team of restoration experts who are also licensed contractors will ensure that your home is returned to the best possible condition.
Count on National First Response 
We are a full-scale restoration company with the training and credentials to properly remediate water damage and restore homes to pristine condition. From mold detection to drywall, flooring, cabinets, paint, and trim, we are Arizona's first choice in water damage restoration services.
National First Response has a team of dedicated technicians with decades of experience to serve the Greater Phoenix, Scottsdale, Chandler, Mesa, Gilbert, Queen Creek, Ahwatukee, and surrounding areas. It is with many years of experience under our belts, that we understand the commitment, skill, and customer service necessary to restore your family's property and sense of security.