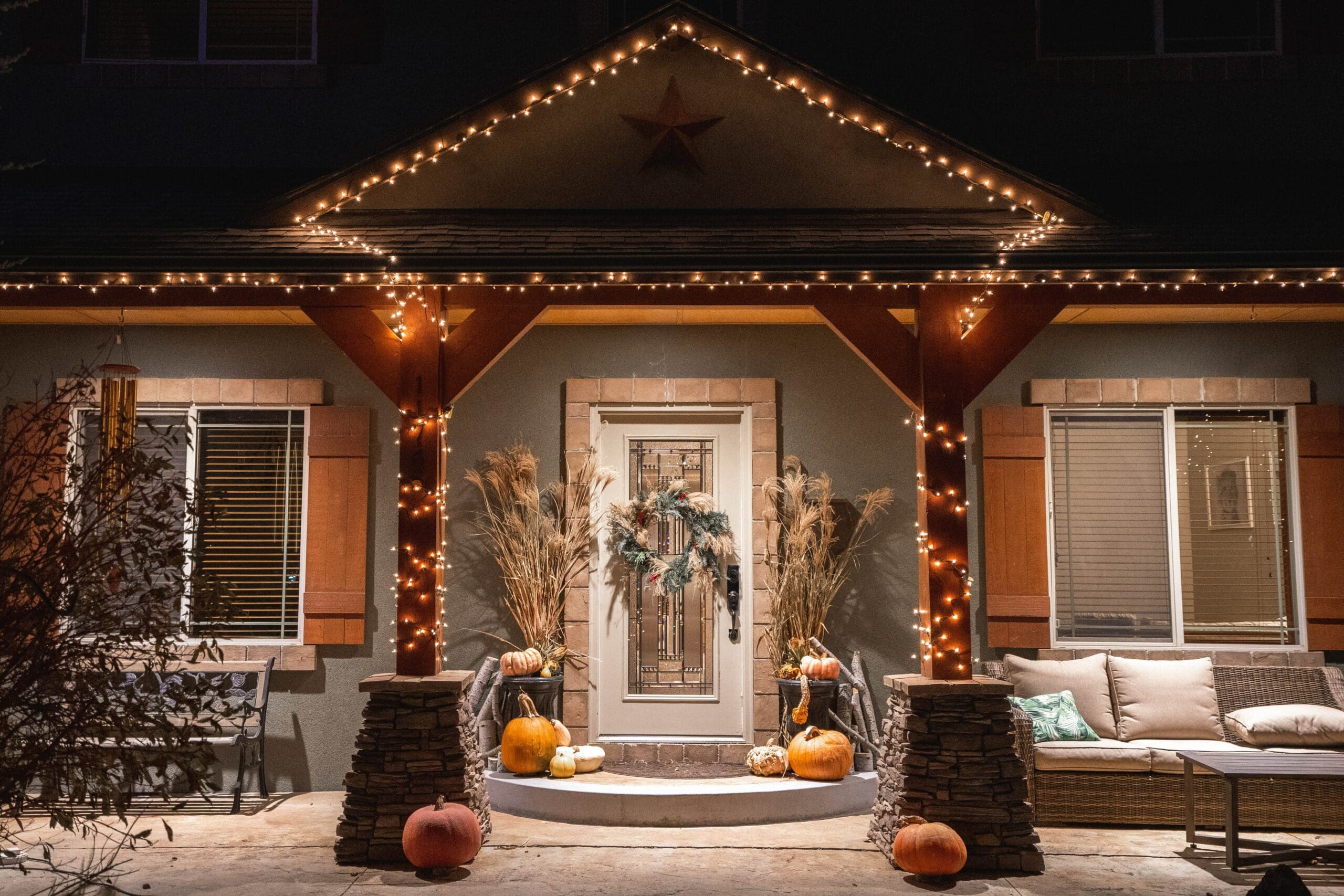 How to Safely Hang Christmas Lights
With the holiday season in full swing, it's time to hang some lights! Before you get caught up in the good cheer, check out our tips for safeguarding your roof, yourself, and your energy costs.
Remarkably, more than 15,000 homeowners suffer injuries each year while prepping their homes for the holidays.
Did you know that some 34% of these injuries are caused by falling from a roof?
What's more – approximately 40% of all Christmas tree fires are started by outdated and faulty Christmas lights. Who knew the holidays could be so risky?
That's why we advise investing in brand-new, energy-efficient LED lights for your home that are also energy-efficient.
How to Protect Your Roof as You Install Christmas Lights
Proper installation is essential to avoid damage. Many homeowners hang lights on their gutters, roof eaves, and even near the first row of shingles. Instead, it is better to let your roof type dictate the best place to hang your lights. Before you get started with your holiday decor extravaganza, make sure your roof is ready for the weight of lights by inspecting these key areas:
Look for any missing shingles
Inspect your gutters
Make sure gutters are securely fastened to your roof
Check roof eaves and flashing to ensure that these are working properly
Here is more on how to hang lights without doing damage to your roof and home:
Avoid Puncturing Your Roof
To quickly attach lights to their homes, many homeowners use staple guns, but these tiny holes damage your siding, gutters, and roofs. There will be holes in your home regardless of how carefully you remove them, but you will do even more damage if you pull your lights down at the end of the season.
Using plastic light clips to hang holiday lights is the safer choice. When properly fastened, these clips fasten to your house without causing any damage. These can be found at your local hardware store or online.
Don't Damage Your Shingles
The primary function of your roof's shingles is to prevent water from entering your home, so when they are damaged, water may enter areas where it shouldn't. This results in additional damage down the road that might cost you thousands of dollars.
Any time you screw or nail into your roof, you create holes that could potentially let water in. Avoid making holes in your roof at all costs — especially if you have asphalt shingles — and instead use light clips to hang decorations on your roof safely.
Use Clips!
While driving nails into your roof, gutters, and eaves to hang Christmas lights might seem like a nice idea, doing so will surely cause damage to your property and small holes that you won't be able to remedy without completely renovating the exterior. Instead, secure lights from your roof using clips.
Light clips can be mounted on railings, different kinds of gutters, roof eaves, and even beneath shingles. Light clips, which were made with outdoor use in mind, also make it simple to hang Christmas lights because there is no need for hammering or stapling since all you have to do is snap them to the roof of your home or any other location you select.
Utilize Mounting Techniques That Are Appropriate for Your Roof
You should pick the proper clip for your roof or gutter whether you're hanging icicle lights, tiny lights, or any other incandescent holiday light. You should pick a mounting technique that makes sense for your property because different types of roof clips are made with different areas of your roof in mind:
All-in-one clips are best for hanging lights on shingles and gutters
Eave clips are best for hanging lights around the perimeter of your roof
Clay tile roofs require plastic clay tile roof clips
Parrot clips are recommended for flat roofs
Simple clips can be attached to gutters
Line clips are best for icicle lights or rope lights and attach to gutters
Bulb clips are best for accurately hanging holiday lights in the same direction
Roof peak clips are used by professional Christmas light installers and hold onto the edge of your shingle
Avoid Walking On Your Roof
You shouldn't ever have to go on your roof to put up Christmas lights if you can use a ladder to decorate it for the season. Walking on your roof can be risky, particularly in regions that frequently get snow and ice.
If you've attempted to hang holiday lights but your ladder isn't cutting it, you should take a few safety precautions before climbing onto your roof. Make sure you follow these steps to preserve your safety and the roof shingles:
Hang lights during sunny conditions so that you can see where you step
In hot climates like Arizona, walk on asphalt shingles with thick-soled shoes to avoid burns
Take your time
Take no more than three short steps onto your roof
Avoid walking on gutters
If you have a tile roof, walk on two peaks instead of the valleys between the roof tiles
National First Roofing wishes you and yours a happy holiday season!