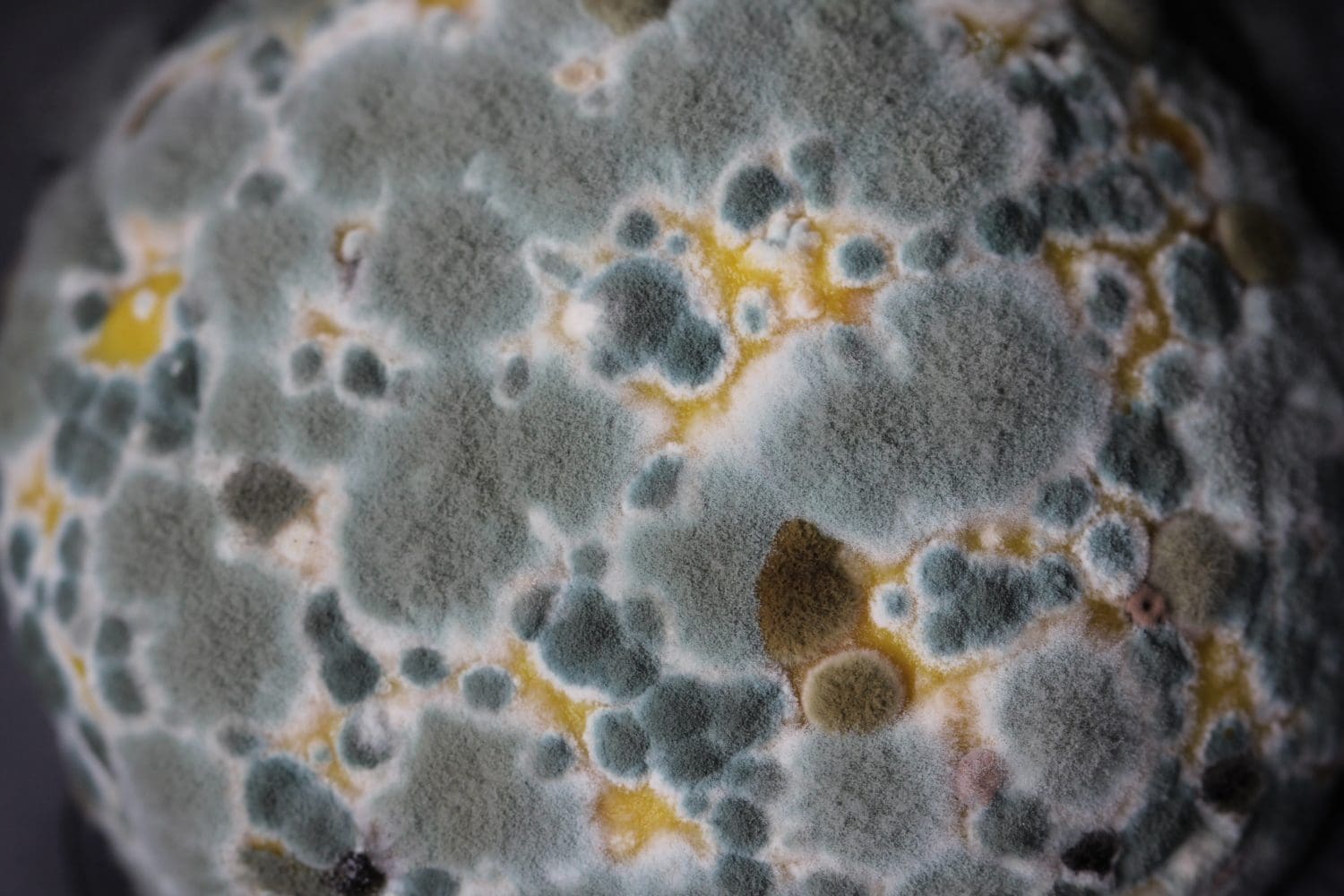 What Causes Mold and How to Remove it
Mold, even in small amounts, can be toxic and dangerous when left unchecked in a home or business. While mold issues are less common in Arizona because of our hot, dry climate, water damage from home issues such as leaky pipes, burst water heaters, and excessive A/C condensation can easily lead to unwanted problems with mold.
In fact, residual water and humidity can initiate dangerous mold and bacteria growth after just 48 hours!
Mold in homes can have serious impacts on health, and create persistent respiratory problems, lead to asthma in children, and even cause debilitating headaches and other problematic symptoms.
Are you worried about mold in your home following water damage? Taking remediation action quickly to prevent bigger issues.
Here is how to get started….
Do I need to pay a professional for expensive mold testing?
First, according to the EPA, testing for mold is often not necessary if you can see visible mold:
"In most cases, if visible mold growth is present, sampling is unnecessary. Since no EPA or other federal limits have been set for mold or mold spores, sampling cannot be used to check a building's compliance with federal mold standards. Surface sampling may be useful to determine if an area has been adequately cleaned or remediated. Sampling for mold should be conducted by professionals who have specific experience in designing mold sampling protocols, sampling methods, and interpreting results. Sample analysis should follow analytical methods recommended by the American Industrial Hygiene Association (AIHA), the American Conference of Governmental Industrial Hygienists (ACGIH), or other professional organizations."
However, if visible mold is not present, there are a few other ways to tell when you should test for mold:
You can smell mold. In this case, an inspection by a qualified remediator can reveal whether there is indeed mold and where it is located.
If you have had plumbing leaks or water issues, an inspection or test can be useful as elevated mold may exist in the air and/or behind walls and appliances.
Health Concerns: if you or someone in your household has unexplained health issues, such as chronic coughing, sneezing, headaches, etc., they may be related to mold.
How to remove mold in your home
If mold affects an area larger than 10 square feet, the EPA recommends against doing the remediation yourself.
For very small areas that show signs of mold, a bleach solution may help. Often referred to as "spray and pray," this option only works for non-porous surfaces. It unfortunately won't remove mold that has burrowed into surfaces like wood or drywall, although some report that vinegar can help in those situations. However, many restoration companies, along with the EPA, don't recommend bleach because it presents its own risks, including dangerous fumes.
Regrettably, many of these home remedies often fail because people don't address the mold's water supply. It is wise to use an experienced, well-reputed emergency restoration company any time your property has had an issue with leaks or water damage. Hiring a pro upfront can prevent much bigger problems later and save you both dollars and headaches.
Do I need to hire a professional to get rid of the mold?
Suspecting or discovering a mold problem in your home can be overwhelming. The good news is that mold removal doesn't have to be a daunting process. The right home remediation professional can guide you through the process without breaking the bank.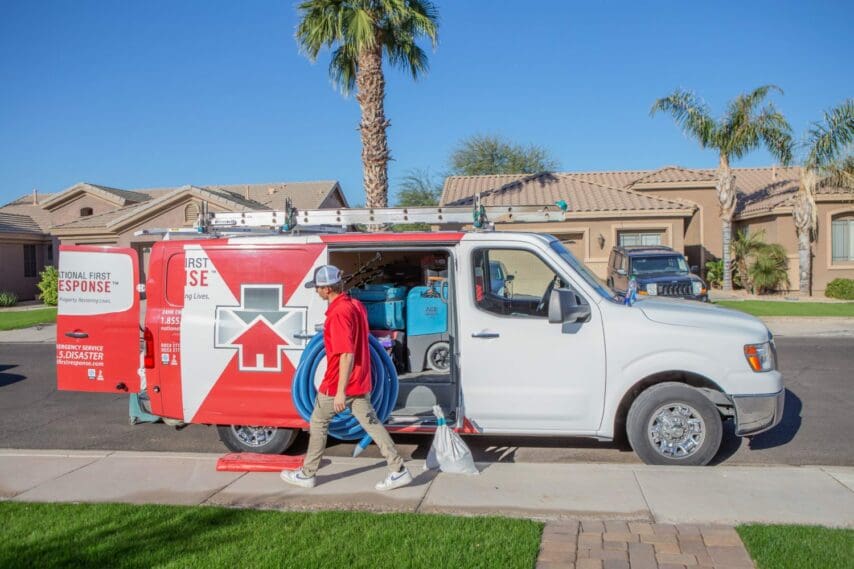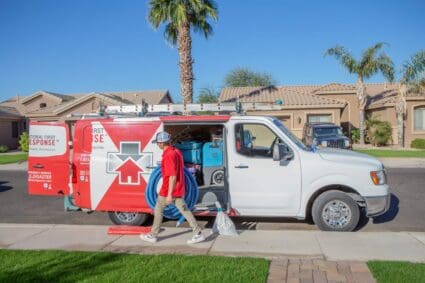 For mold issues that are bigger than 10 square feet or are located in challenging areas such as attics or crawlspaces, the EPA recommends hiring a professional.
While small mold problems can sometimes be handled by a diligent homeowner, many people prefer to hire a mold professional anyway for peace of mind and to ensure the mold removal is done properly.
How to choose a mold removal company
With all the options out there, how can you choose the right company to deal with mold in your home?
Relying on a remediation company that has a good reputation, positive public reviews, and responsive customer service is a smart place to start.
Look no further for Arizona's most trusted restoration specialists:
National First Response is BBB-accredited with a team of dedicated technicians to serve the Greater Phoenix, Scottsdale, Chandler, Mesa, Gilbert, Queen Creek, Ahwatukee, and surrounding areas. With decades of experience, we understand the commitment, skill, and customer service necessary to restore your family's property and peace of mind.s
Count on us for:
Affordable Rates
24/7 Emergency Response
Free Damage Assessment
Deductible Financing Available
Bonded, Licensed & Insured
Locally Owned & Operated
National First Response is available 24 hours a day, 7 days a week. Within 60 minutes of your call to National First Response, one of our experienced and certified technicians will be at your door, ready to assist you, make things right, and prevent further loss. We are committed to returning your property to its original condition and to getting you back to your normal life as quickly as possible.
Get in touch to find out how we can help!